See You at Singapore FoodHotel Asia 2018-Asia's Most Comprehensive International Food and Hospitality Trade Event
January 24, 2018

Singapore FoodHotel Asia 2018--Asia's Most Comprehensive International Food and Hospitality Trade Event.
A mega tradeshow synonymous with the food and hospitality industry in Asia and beyond, Food&HotelAsia (FHA) has but a humble beginning at a hotel's carpark back in 1978. Through 40 years of years of evolvement, FHA has grown tremendously in tandem with Asia's food and hospitality industry, and has earned itself a reputation as the most comprehensive premier international food and hospitality trade show in the region.This biennial event has proved to stay relevant to the Asian markets' needs.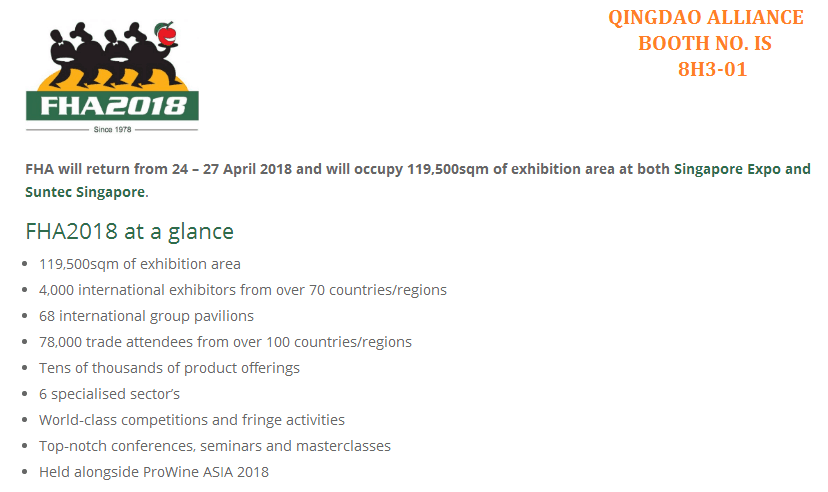 As one of the Food Exporter from China, we mainly supply Frozen&Fresh Vegetables, Frozen&Fresh Fruit, Spice&Herbs, Poultry&Meat. All our raw materials come from our own controllable base, raw materials can be traced back, the factory has a number of internaional certifications, including HACCP, ISO22000, BRC, HALAL, KOUSHER, organic NOP certification and registration through FDA.
And our main products display as below:

1, Frozen Vegetables


2, Fresh Vegetables


3, Frozen Fruit


4, Fresh Fruit


5, Spice&Herbs


6, Poultry&Meat




Looking forward to your kindly visit!